Chimney Chase Cover Replacements
At Chimney Champions, our goal is to ensure your home has a chimney that is safe and functional. Chase covers are a very important part of the chimney's exterior system – it's purpose is to protect the interior! Request service now to have your chimney cover replaced or call (904) 268-7200 and speak with one of our knowledgeable team members.
Contact Us
Why are Chimney Chase Covers Important?
Chimney chase covers, also known as pan covers, sit atop prefabricated or factory-built chimneys and are important for the following reasons:
Moisture Protection
Covers help protect your home from moisture intrusion, but cheaper covers rust quickly and often deteriorate within just a couple years. Stainless steel and copper are the best materials for covers because they won't rust, which reduces your maintenance costs.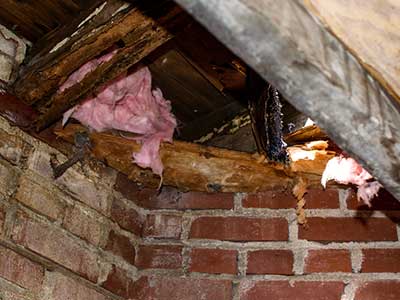 Eliminate Damage
Most people think chase covers are flat. However, when constructed and installed properly they are slightly pitched, allowing water to run off the cover. If your cover is flat and holding water or rusted, it was either poorly designed or damaged and should be replaced.
Pest Protection
Working in conjunction, chimney caps and chimney covers protect the chimney and flue system from a host of weather-related problems, moisture, mold, and pesky critters – all of which can inflict serious damage to your chimney and home.
The experienced team at Chimney Champions can quickly and expertly assess any major or minor problems with your chimney system, including chase cover replacements.
Choose The Chimney Experts
Our customers know that they can count on us for superb chimney inspections, regular cleaning services, and chimney repairs.
We never try to upsell clients on any unnecessary work. If we find that major chimney repairs are required, we provide a written list of exactly what needs to be completed.
We use the industry's best technology, including a high-powered HEPA vacuum to protect your home and family from toxins, and the Chim-Scan® flue camera system.
We have best cleaning practices in place to ensure that we leave your home spotless.
In addition to replacing caps, covers, and making other repairs, we provide professional chimney inspection and sweeping services. We serve Jacksonville and the surrounding areas of Florida including St. Augustine, Orange Park, Middleburg, and beyond. Request service now or contact us at (904) 268-7200 to speak with one of the knowledgeable team members at Chimney Champions.